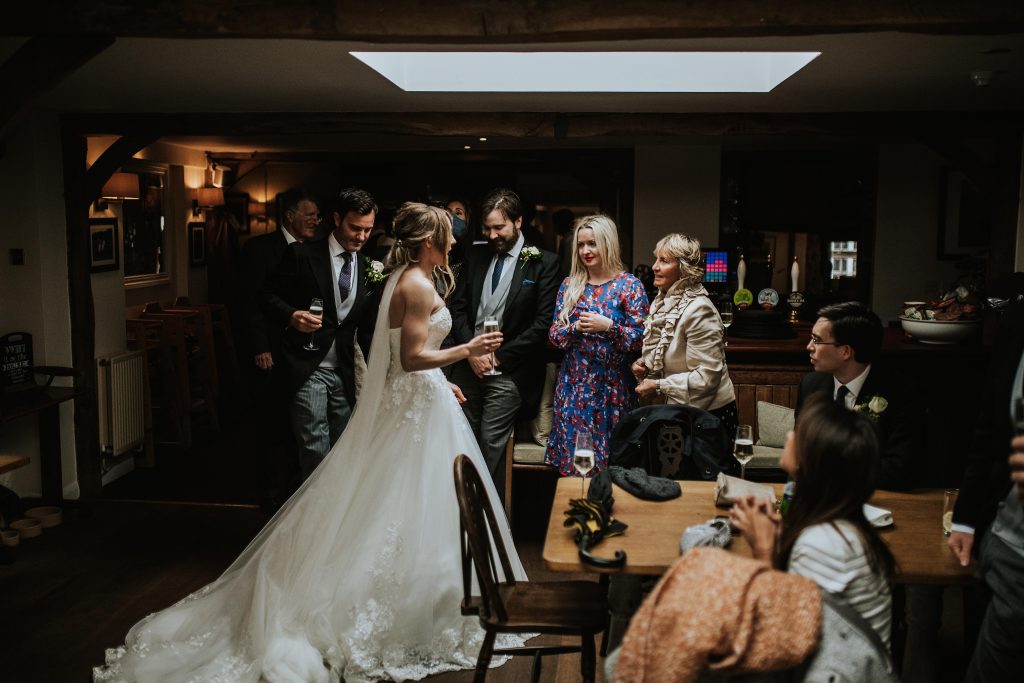 How many events take place in Petworth throughout the year?
We host over 40 events throughout the year across the Petworth Places Businesses. These include weddings, birthday celebrations, gallery, private dining and corporate events and range from intimate private dinners for 10 to large scale events for up to 200 people. Our event spaces include The Angel Inn, E. Street Bar & Grill and Newlands House with it's newly launched Hungry Guest Café.
Which is your favourite sort of event to work on?
I enjoy all of the events that we host for different reasons but I do absolutely love a wedding.
Which venue would you recommend for summer/ winter?
Our venues each have a very individual feel, The Angel Inn is cosy and homely during the winter months with open fires to create a really comfortable atmosphere. We are really excited about the addition of a large heated 'stretch tent' that will cover the courtyard from September to March. This will add a new dimension to our events at The Angel Inn with the ability to create magical spaces for our private event guests. During the summer months the great appeal of The Angel Inn is its' Courtyard Garden. This oasis of peace and tranquility in bustling Petworth is a real delight, we are licensed to carry out wedding ceremonies under the wisteria clad pergola at the rear of the courtyard.
E. Street Bar & Grill really comes alive when the sun goes down. The bar and restaurant area have been decorated with a nod to the decadence of the 1920s and the speakeasy feel makes it a very special venue for a winter party. Upstairs, there are a suite of private dining rooms that can be used together or separately depending on the intimacy of the event. The jewel in the crown of these is the Stag Room, named for the 20 point stag antler that presides over the room, it is light and airy but with a great atmosphere for a formal banquet or more casual drinks reception alike. The Stag Room is also licenced for weddings and provides a really unique venue for a wedding ceremony.
Describe a typical day when running a wedding in Petworth?
Wedding days are busy and not just for the bride, groom and best man. We aim to have most of the set-up for weddings completed the day before if possible but with each of the venues open for business this is not always possible. We work very closely with the bride and groom prior to the wedding day to ensure that we have an accurate picture of their vision of the venue. We liaise with florists and designers to help to bring the couple's vision to life and make the spaces available to them to suit their timeframe (this sometimes means a very early start to the day!). Couples and their parents often take an active role in dressing our rooms, we enjoy sharing this experience with them and endeavour to make this as enjoyable and stress-free as possible. We always have an itinerary of the running order of the day which we approve with our wedding couples, our experience tells us that whilst this is an essential part of wedding planning, it is always wise to build some 'wiggle room' into any timetable for the day. Weddings move to their own pace and whilst a nudge in the right direction is often needed, most of the time, we try to go with the flow where possible.
By the time the bride and groom and their guests are seated for their wedding breakfast, the hard work is just beginning for us. Our events teams, including master of ceremonies, chefs, kitchen and waiting staff are experienced in producing a superb dining experience, all pride themselves on their professionalism and attention to detail. A wedding is a great way for our staff to work together as a cohesive team, there is always great a wonderfully collegiate enthusiasm at these special events and we hope that this is evident to our guests.
Which accommodation would you recommend for business or weddings?
Our accommodation ranges from the Coaching Inn Rooms at The Angel Inn to our stunning 3 bedroomed properties at Ryde House and East House. As all of our accommodation is within walking distance of our venues, it is a matter of personal choice which to choose. That said, our self-catering properties provide the perfect backdrop to wedding preparations, with brides often favouring the elegance and romance of Ryde House and grooms opting for the more masculine decor of East House. Both have plenty of room for visiting stylists, hairdressers and make-up artists (and bridesmaids, ushers, friends and family) with fully equipped kitchens for those all important pre-wedding snacks and chilled bottles of fizz.
Want to find out more about our events?